2023 8th International Conference on
Biomedical Signal and Image Processing
July 21-23, 2023
Chengdu, China
Submission Deadline:

Before May. 30, 2023

Notification of Acceptance: On Jun. 15, 2023
Registration Deadline: Before Jun. 25, 2023
Conference Date: July 21-23, 2023
Authors can attend the conference with paper publication or without publication. For paper publication, full paper should be submitted. For presentation only, abstract should be submitted.
icbip@cbees.net

+852-3500-0799 (English)

+86-28-86528465 (Chinese)

Ms.Syndra Li

Monday-Friday, 9:30-18:00
Supported By
2022 7th International Conference on Biomedical Signal and Image Processing (ICBIP 2022) has been held successfully during August 19-21, 2022.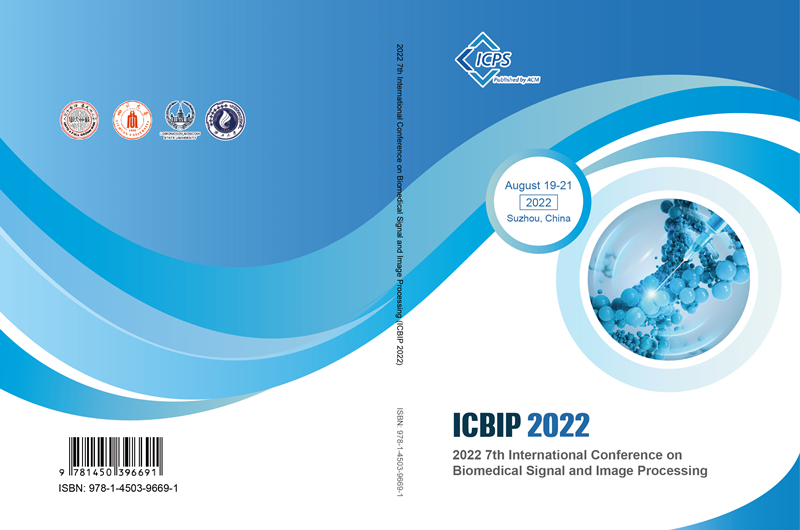 Publication: International Conference Proceedings by ACM (ISBN: 978-1-4503-9669-1), indexed by Ei Comendex and Scopus
Best Presentation
SZ0016
ADHD Classification With Low-Frequency Fluctuation Feature Map Based on 3D CBAM
Su Lihua and Kamata Sei-ichiro
Waseda University, Japan
SZ0029-A
Drug Repurposing for Diabetic Retinopathy based on Multi-dimension Networks
Huiqian Kong, Yun Shao, Ke Zhao, Shunming Liu, Yijun Hu, Guang Hu, Lei Zhang, Mingguang He, Xueli Zhang and Honghua Yu
Guangdong Provincial People's Hospital, China
SZ0013
The Primary Motor Cortex Represents Unilateral and Bilateral Movements of Elbows and Wrists – A Pilot Study
Zijun Wan, Dongrong Lai, Feixiao Ren, Weidong Chen and Kedi Xu
Zhejiang University, China
Copyright (c) 2023 www.icbip.org. All rights reserved. ICBIP 2023.